IdeaBox has turned 7 and how cool is that?
Started as one man army, we have come a long way!
The last 7 years have been a rollercoaster ride, and we have made it through fabulously. So, we thought why not celebrate our win with little glamour! 🙂
We Planned a Company Outing!
Yes! Khwahish, our Happiness Manager, decided that we have to celebrate our seven years of success with a company outing.
There were many places to choose from, but finally, we decided to have our stay at Dev Vasa, Udaipur. A humble Homestay villa with a great view, located on a hilltop near Sahastra Bahu temples was a perfect destination to have a blast for our 7th anniversary.
Btw, Dev Vasa means "Home of Gods". Pretty epic, right?
It's Celebration Time!
On the d-day, we all gathered up at our office and then from there we started our journey towards Dev Vasa.
We got a little hungry on our way, so we decided to take a lunch break midway. Once we had our stomachs well-fed, everyone was again pumped up & excited to reach the place!
The Venue was a Secret!
Oh, and did I tell you that the venue was a surprise? Oh yes!
Only a few people knew, and the rest of us had no idea where we were going. Oh boy, and believe me you, it was marvelous!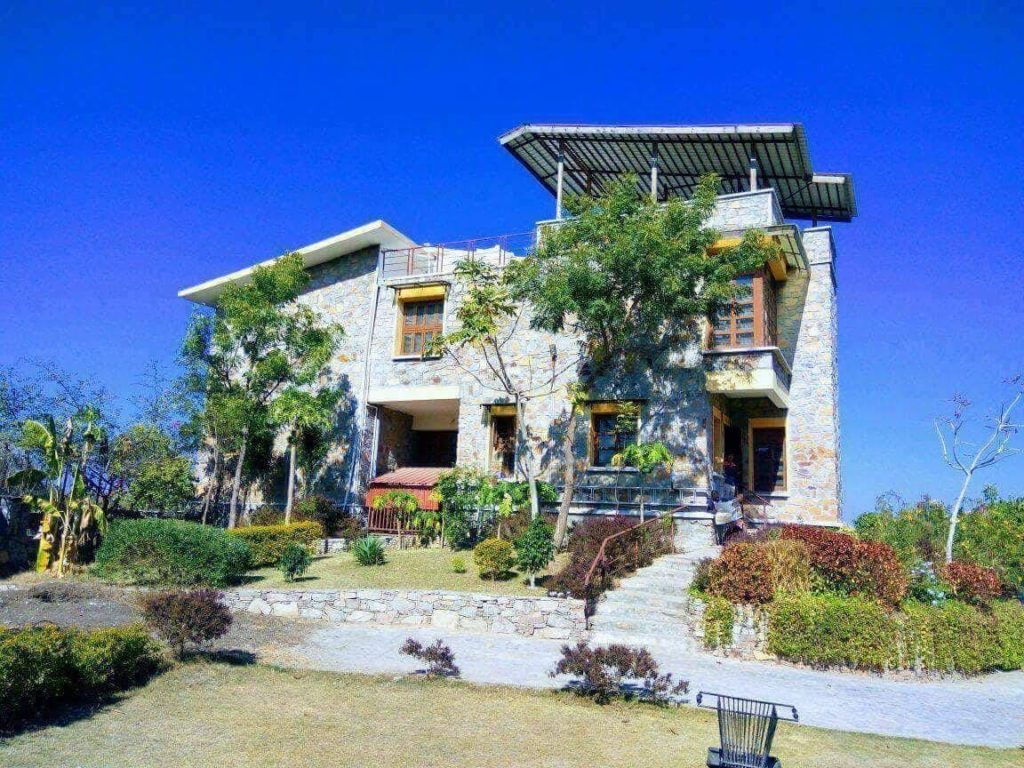 As soon as we entered the villa, everyone was awestruck!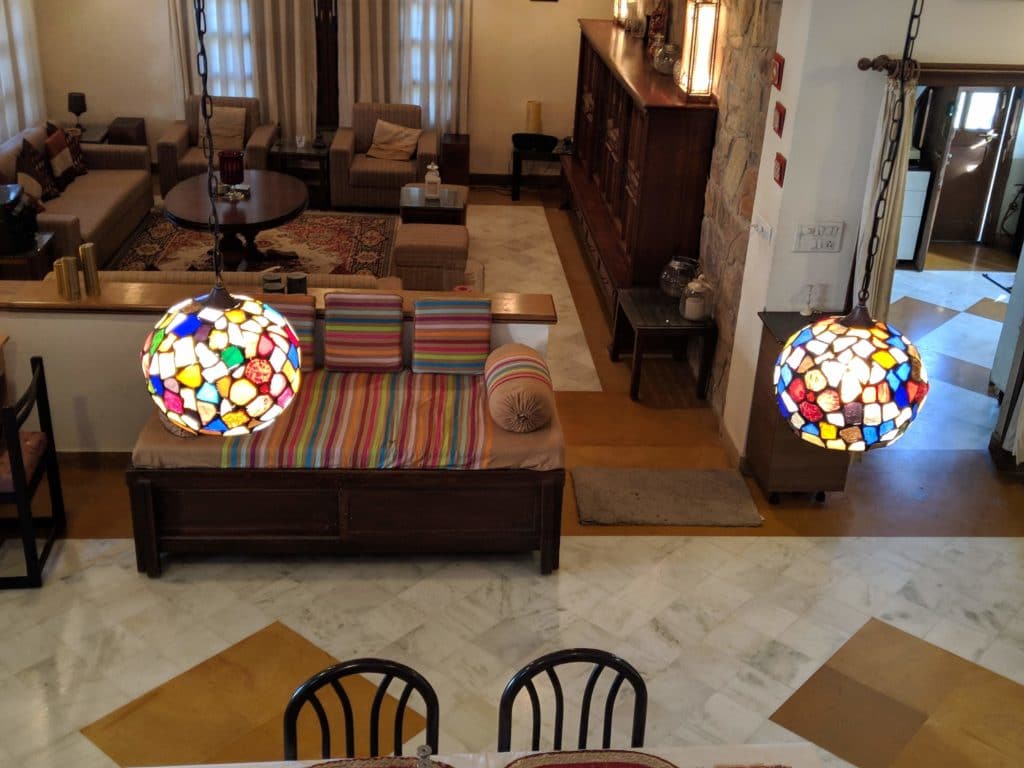 The villa had a rustic, bold old style architecture with all the facilities that anyone can ask for. Our host, Mayank, gave us a tour of the place and everyone settled in.
And So Begins the Fun…!
Once everyone was feeling cozy, we started with a "friendly match" of UNO! (We all know how "friendly" UNO can get. Yikes!)
Then by 6 P.M., we decided to celebrate the 7th anniversary by cutting a cake. Oh and the cake in itself was a surprise. It was a Big 7 made up of cake! Here have a look-
Oh… And there were Prizes too!
Our CEO, Puneet, had a surprise for us. He came up with an idea to give a title/award on the basis of the quality of that team member. The best part was that we had to guess who was the person associated with the title!
While guessing the person, everyone had a good laugh, and even the boring prize distribution ceremony was everted and made into a fun session!


The Party Must Go On!
While all this was happening, we captured the moments by taking selfies and pictures.
Now we decided to move the party outside. The host at Dev Vasa helped up in setting up a bonfire, and everyone one of us grabbed a chair and circled the fire.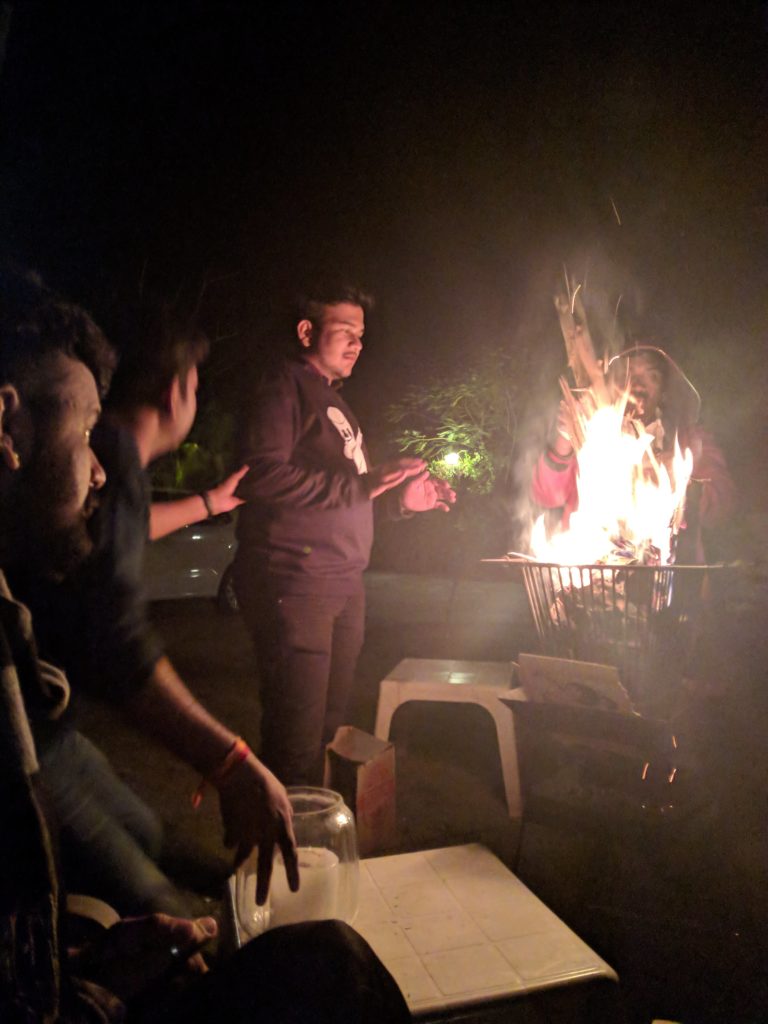 The music was playing, the weather was pleasant, and everyone had a great time!
It was almost supper time, and everyone's hungry faces started to discuss what to eat for dinner. We moved the party back indoors and had our supper.
Late Night Fun Begins!
Once we were all well fed we decided to play games. We began with Teen Patti, which was won by none other than our CEO, Puneet. 🙂 We also played LAN games like Counter-Strike, and another round of UNO was dealt.
Oh! And how can we forget to mention the goosebumps Yashwardhan gave us at 3 AM with the horror stories he told us!
The Next Day!
It was almost dawn, and some of us were still up, so we decided to watch the beautiful sunrise from the rooftop with some morning chai. The view was remarkable!

Once everyone was up, we all sat down for breakfast in the veranda.
Nearby Sightseeing
Once we were all done, we decided to check out nearby attractions and archeological sites. First stop was Sahastrabahu Temples locally knows as "Saas Bahu Temples". Here have a look –
Then we went to Eklingji temples. Everybody had a good time, and we had the famous Mirchi Vadas at Eklingji. From here we headed our home and concluded our memorable trip.
Winding It Up!
We surely have come a long way. Seven years of memories are something that cannot be summed up in the number "7". Started out as a web development company, we today have our library of free and premium WordPress products out there. All this would not have been possible without your love and support!
Thank you!
What do you think about our company outing? Where do you think we should go next? Tell us by commenting it down below!